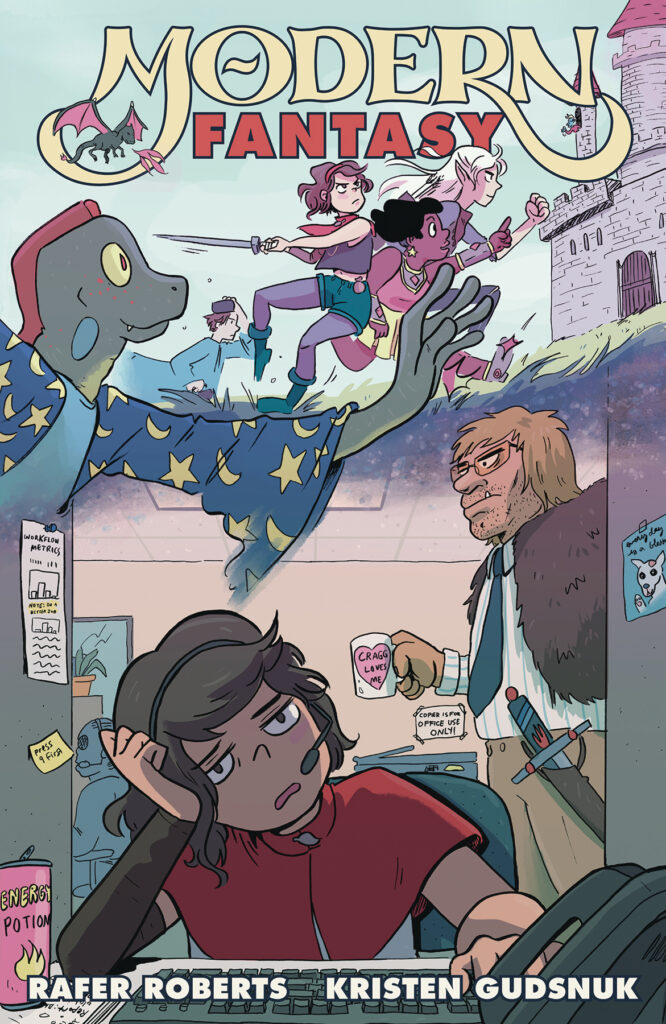 "Modern Fantasy" from Kristen Gudsnuk and Rafer Roberts Gives the Genre a Millenial-Approved Twist This June!
In 2017, Dark Horse published the Henchgirl collection by breakout talent Kristen Gudsnuk! Dark Horse is pleased to reveal a new creator-owned project from Gudsnuk and writer Rafer Roberts (A&A: The Adventures of Archer and Armstrong), Modern Fantasy. Modern Fantasy marks Roberts' debut at Dark Horse.
Modern Fantasy follows three friends, new to the big city, as they struggle to keep their crappy day jobs and pay off their student loans. A young Ranger woman, her drug-dealing reptilian Wizard roommate, and her boisterous Dwarf maiden BFF as they embark on a modern day quest to save the world. The roommates become embroiled in danger when one of their significant other's finds himself taken by criminals, and the trio must get their $#!& together to save him.
Modern Fantasy #1 (of four) goes on sale on June 27, 2018, and is available for preorder at your local comic shop.
Praise for Kristen Gudsnuk and Rafer Roberts:
"Writer Rafer Roberts brings the funny…[and is] able to mine some great, layered moments of character exploration amidst the rampant humor."—IGN
"Gudsnuk's art is wonderful… It's a cross between Scott Pilgrim and Bee and PuppyCat, but at the same time it's still its own original and unique style."—Comic Bastards
"The craftsmanship in Henchgirl is staggering at times. Gudsnuk sneaks humor into every nook, cranny, bit of empty space on every page."—Doom Rocket